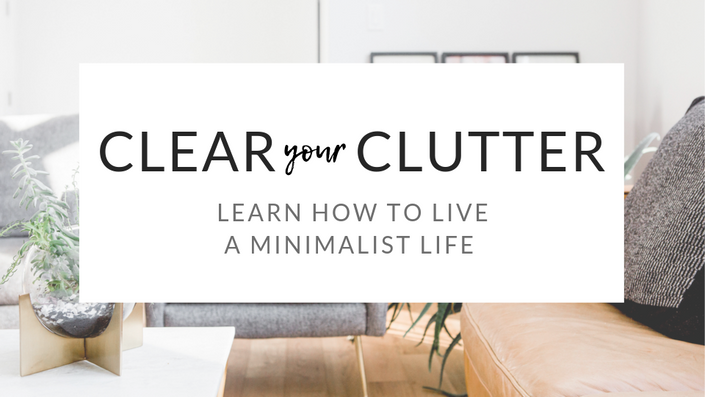 Clear Your Clutter
Learn how to live a minimalist life and *finally* find the freedom and ease you deserve.
You've read all the minimalist books and more blog posts than you could possibly remember...
But for some reason, you're stuck.
Your life is still busy, cluttered and overwhelmed.
Despite your best efforts, you're miles away from the simple yet beautiful life you know you deserve.

Hey there! I'm Jen and I know that you're here because you want to feel free and at ease in your everyday life.

... and I'm sure you already know that it's CLUTTER—in your home, your schedule and your mind—that's standing in the way between you and what you want most.
I know this because I've walked in your shoes, slowly drowning in a sea of too much stuff and too many responsibilities. I know exactly how suffocating it can feel!
I've also worked with people just like you from all over the world—people who were so close to breaking free from the chains of their clutter too—yet for some reason, they just couldn't put the final pieces together.
If this is you, then here's the honest truth—you don't need any more decluttering tips.

There's no secret "hack" that will make your clutter disappear (and deep down you already know this—because if there was, you would have definitely found it by now!).
There is however, a solution that works.
Let me show you how to think like a minimalist so you can clear your clutter from the roots and feel confident that it's never coming back.
Introducing your path to a minimalist lifestyle ...

CLEAR YOUR CLUTTER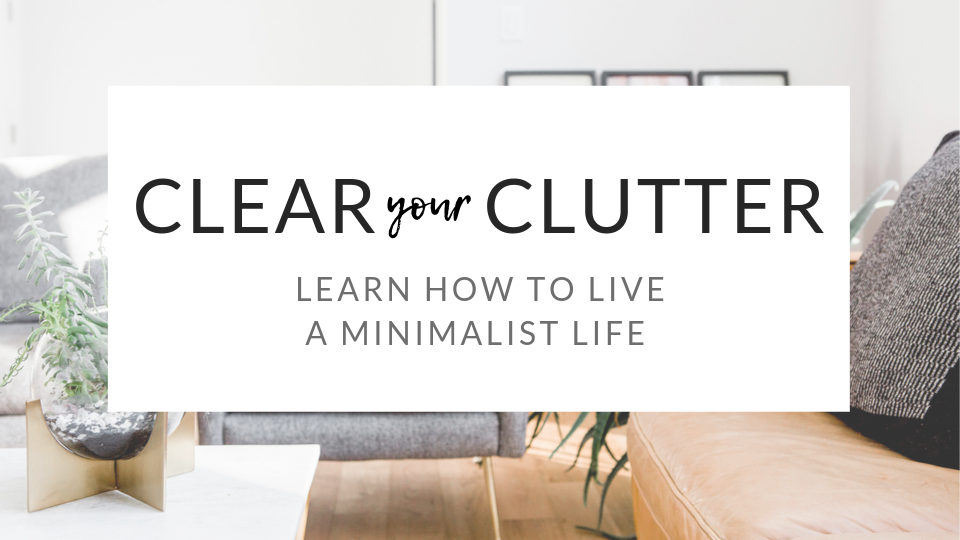 CLEAR YOUR CLUTTER is an online course that will teach you how to live a minimalist life. This is everything I learned on my journey from feeling busy, overwhelmed and stuck ... to feeling free, at ease and in love with my life.

This isn't your average decluttering course—I'm going to teach you how to think like a minimalist. Learn how to let go of everything that's been holding you back so you can finally create the life that deep down, you know you deserve.
Stop settling for tired and overwhelmed.
Learn how to declutter your home and life.
Find the freedom and ease you deserve.
Minimalist living doesn't have to be complicated.

PRAISE FOR CLEAR YOUR CLUTTER
"I have been trying to "become a minimalist" for about two years now. I've read multiple books, followed several bloggers, and had a Pinterest board dedicated to this.
I've been able to clear obvious clutter from my home, but would always get tripped up when it came to 1) my old journals, photos, and sentimental paraphernalia (greeting cards, tickets stubs, etc.) and 2) making mindful purchases that I don't regret later.
Even with all the research I've done I had a hard time solving these two issues. So when Jennifer came out with a course that addressed these two problems, I knew I had to try it out. And I'm so glad I did!
This course has absolutely been a game changer for me.
I love Jennifer's personal stories and simple approach. I had so many "aha" moments when taking this course, and I have finally been able to make progress decluttering my stickiest clutter and making purchases that I don't regret later.
I would highly recommend this course to anyone who has encountered stumbling blocks on their minimalism journey. Thanks to Jennifer, I can now say "I AM a minimalist!""
- Lynne B, Clear Your Clutter student
CLEAR YOUR CLUTTER IS FOR YOU IF:
You want to live a Minimalist Life. Yes, you'd love a decluttered home (and this course will help you achieve it!) ... but what you really want is to change the way you feel. If you're tired of settling for tired overwhelmed, and you're ready to feel the freedom and ease that you deserve—then this course is for you

!

You are open to self-reflection. I believe that minimalist living starts from the inside out. This means that in order to clear the physical clutter from your life, you must be willing to take a deep look at how it got there in the first place. This can be uncomfortable at times but I promise it's worth it.
You're ready to stop settling. This course isn't a huge time commitment (expect to spend approximately 2 hours/week working through the materials) BUT to get results you need to make a commitment to yourself. The ball is in your court; it's your life—

what do you want to do with it?
Clear Your Clutter will change the way you think about your stuff, your schedule and hopefully, even how you think about yourself.
---
CLEAR YOUR CLUTTER IS *NOT* FOR YOU IF:
You're looking for a course on home organisation. Clear Your Clutter includes practical strategies for decluttering your home (and you'll leave with a step-by-step, personalised decluttering plan) BUT it's not a course about home organisation.
You want room specific decluttering advice. In Clear Your Clutter, the focus is on developing the skills and mindset required for decluttering any space in your home or life. I don't provide specific tips on decluttering your kitchen, bathroom etc. However, there are specific case studies on how I've decluttered individual items, the challenges I faced, and strategies for overcoming them.
You are uncomfortable with or dislike journaling. As I mentioned, this course involves a lot of self-reflection and a part of this is completing "journaling style" activities. Writing down your answers isn't mandatory (some people might prefer to simply think and reflect) but if you really dislike these types of activities then this course probably isn't for you.
Still not sure if Clear Your Clutter is for you?
Keep reading for a free Course Preview Video (Week 1, Lesson 1).
Then if you're still not sure, feel free to email me (jennifer at simplyfiercely.com) and we can talk about your specific concerns.
Also, keep in mind that Clear Your Clutter comes with a Nothing to Lose: 30 Day Money Back Guarantee.
If you're not happy with Clear Your Clutter for any reason, simply let me know within 30 days of purchase and I'll issue a full refund, no questions asked.
So what do you have to lose? 😉
IMAGINE IF YOU...
✔︎ Knew exactly how to clear the clutter in your home (even the really tricky stuff like gifts and sentimental items!)
✔︎ Had a customised step-by-step decluttering plan to follow (taking away the stress of always figuring out your next steps)

✔︎ Knew how to stop buying more stuff (or more importantly—how to genuinely stop wanting more stuff)

✔︎ Had more time for the things that matter most to you (for your family, your hobbies, self-care or whatever it is that matters most to YOU)

✔︎ Felt confident that minimalist living was a lifestyle you could actually maintain (and not just a one off decluttering binge—we're talking about committing for the long-term! )

HOW IT WORKS
Clear Your Clutter is an online course with 6 weekly modules.
When you join, you get instant access to all 6 modules and resources including: videos, workbooks, activities and challenges that you can work through at your own pace.
(Even though it's a "6 week" course, you have lifetime access to the content so there's no rush if you need more time.)
You also have access to a private Facebook group where you can ask questions and get support from a community of like-minded people.
Keep reading for a free course preview and a week-by-week breakdown of what you'll learn in Clear Your Clutter!
Here is a week by week overview of what we'll cover together:
WEEK 1: This week is about building strong foundations—making a commitment to your future self, exploring where your clutter comes from, and clarifying what a minimalist life really means to you.
This is the essential (yet often overlooked) key to embracing minimalist living!
WEEK 2: A deep dive into why we feel emotionally connected to stuff and how to work through these emotions so you can finally let go. You'll learn how to tackle some of your biggest decluttering challenges, including how to let go of sentimental items and how to overcome feelings of guilt about wasted money.
You can expect personal case studies and a lot of "Ah-ha!" moments this week!

WEEK 3: This week you'll create a personal, step-by-step decluttering plan (with a lot of guidance and support)! Included are practical resources to help you decide what to do with the stuff you declutter and how to maintain momentum while decluttering.

By the end of the week, you'll know exactly how to declutter your home and the stress of figuring out what to do next will be gone!
WEEK 4: Decluttering is important but if you really want to live a minimalist life, then you need to learn how to stop buying (and wanting!) more stuff. This week you'll learn practical strategies that you can implement right away—but more importantly, you'll also learn how to change your beliefs about shopping.
Minimalism isn't about willpower. Learn to change how you think about "more" and I guarantee it will change your life!

WEEK 5: Enough with stuff—this week we're going to talk about your time. Learn how to be less busy without feeling guilty or overwhelmed.
If you want more time to relax and enjoy life—without constantly thinking about your to-do list—then this week is for you!

WEEK 6: Our final week together is all about moving forward with minimalism as a lifestyle. These are the missing pieces of the puzzle—the mindsets and beliefs that connect the dots and empower you to live life on your own terms.
End the course feeling confident about your minimalist life. This isn't a one-off decluttering binge—this is a new way of living!

MEET YOUR INSTRUCTOR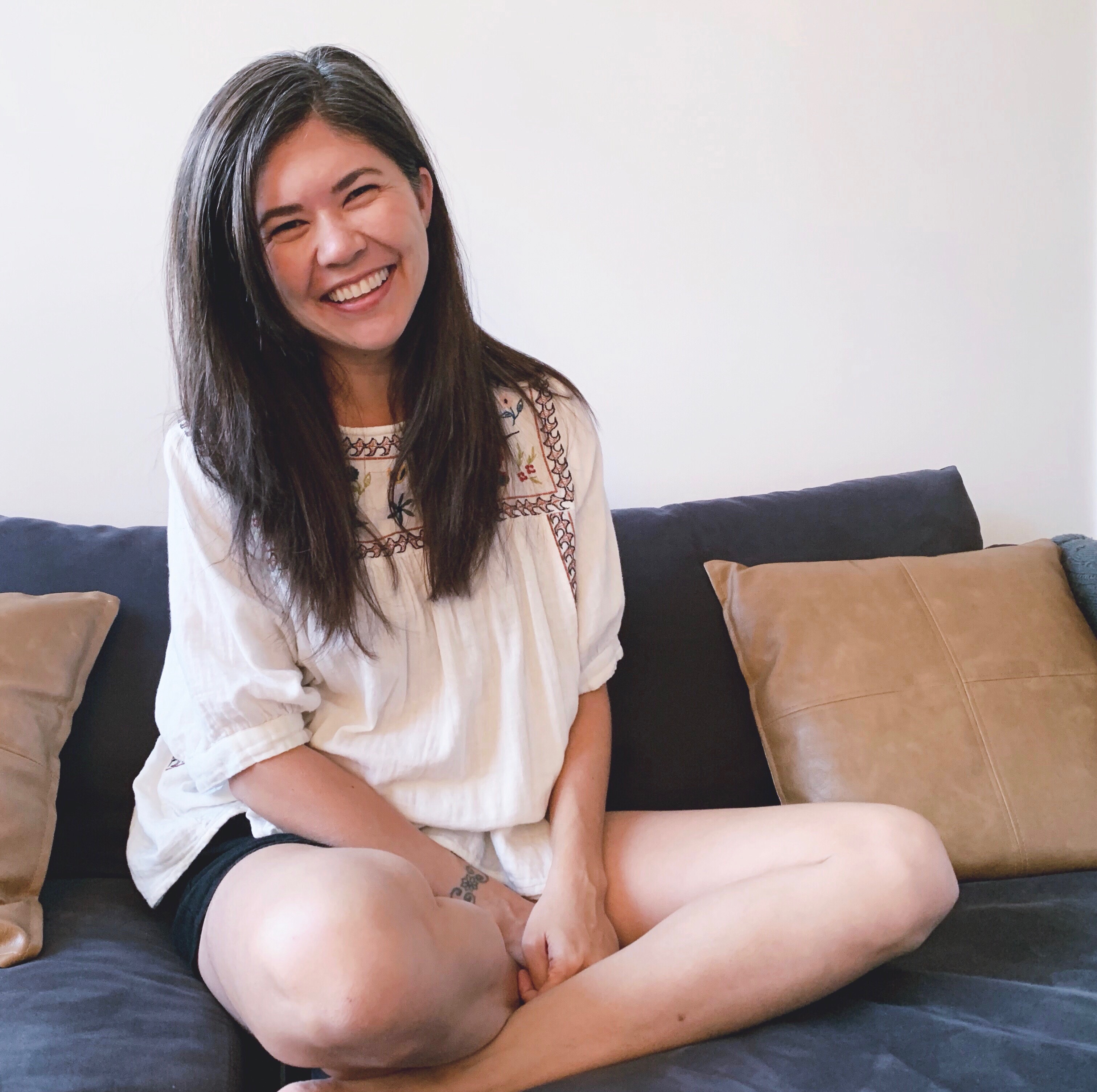 Hi there! I'm Jennifer, the voice behind Simply + Fiercely, and I know what it's like to feel suffocated and trapped in your life.
Like you, I know that feeling of being constantly tired and overwhelmed. I was a workaholic and shopaholic, living in a never-ending state of exhaustion. I knew that I wanted something different but I didn't know the how or what ... so I did nothing.

Then one day I discovered minimalism my brain exploded. 🤯
I had honestly never considered that "less could be more" but the more I learned, the more excited I became. I knew deep in my heart that I was on to something ...
But I got stuck—really stuck.
I made attempt after attempt to declutter my life but no matter what I did, I couldn't move forward.
I'd manage to declutter a few bags of stuff ... but I couldn't stop shopping so it never made any real difference.

Decluttering was so hard and incredibly draining. I'd spend hours struggling to make the simplest decisions about what to keep.

I felt like I knew what I was "supposed" to be doing in theory—all the blog posts made it sound so simple—but I just couldn't follow through.
I felt like a failure and I wanted to give up ... but fortunately I didn't. I knew that I was never going to settle for tired and overwhelmed so I kept trying—and I got there in the end!
After nearly a decade, I finally learned the secrets of minimalist living and now I want to share them with you. You CAN do this!
PRAISE FOR SIMPLY + FIERCELY
"Something fundamental inside me changed when I found your website. The way that you approach minimalism with intention resonates with me deeply. I have not found anyone else who writes on the subject quite the way you do, addressing the mindsets and mental work, which is the key to making your life better. Thank you for sharing your insights with the world. You really are making a difference."
– Chantel H
Your Instructor
Hello there! I'm Jennifer, the founder of Simply + Fiercely, where I help women build lives they love through simple and intentional living. As a former shopaholic and workaholic, I know how it feels to live a life that doesn't feel true to what's in your heart. Fortunately, I've transformed my life and gone from feeling cluttered and confused to living a curated life filled with purpose and joy. Now I'm here to help do the same - are you ready to get started?
Frequently Asked Questions
When does the course start and finish?
Although the course is formatted as a "6 week course", it's self-paced. This means you get full access to all the course materials as soon as you sign up and you can choose to work through them at a time that's best for you.
How long do I have access to the course?
How does lifetime access sound? After enrolling, you have unlimited access to this course for as long as you like - across any and all devices you own.
What if I am unhappy with the course?
We would never want you to be unhappy! If you are unsatisfied with your purchase, contact us in the first 30 days and we will give you a full refund.
What currency is the course price?
All of my courses are priced in US Dollars.